"After graduating college and entering the real world, I felt a new level of stress and anxiety in my life. In order to compensate for this, I turned to food for comfort and stress release. While I still maintained a lifestyle with a lot of exercise, I quickly gained 20 pounds while working at my new job. I constantly felt sick to my stomach and I was exhausted. After going to my doctor and being diagnosed with IBS, I looked into various ways to try and minimize my discomfort. Through going to the Bar Method of Princeton, I heard of Amanda Hayes. She was the catalyst that helped me transition to my new, healthier lifestyle and guided me through the difficult changes. She reassured me that with changes in my diet, I would feel much better. With her assistance, I quickly made the evolution to a healthier lifestyle. Since working with her for two months, I have learned how to prepare fresh and healthy gourmet meals, and can now successfully navigate Whole Foods to find what I need. With the changes in my diet I now feel great, I have much more energy and I have lost almost 25 pounds. I know that I could not have made the changes I did without Amanda's help and guidance. Thank you Amanda for helping me start my journey to creating an healthier lifestyle!" – Kristen, Montgomery, NJ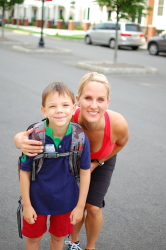 "I started consulting with Amanda about five months ago for some nutritional support. I had a bit of holistic nutrition experience but wanted to further my knowledge and get help with some personal issues. For over seven years I have battled bulimia. Amanda helped me pin point my weak areas and advised me on what could be causing my cravings and problem areas. With the diet changes and advice that Amanda gave me, along with therapy, I was able to overcome my intense sugar cravings that ultimately lead to my bulimic episodes. With her support I have been able to make my life so much better physically, mentally and emotionally. Amanda is the sweetest most caring person when it comes to such personal needs. She is extremely knowledgeable, professional and most of all practices what she preaches. I highly recommend her to anyone looking for support such as mine, weight management or simply wanting to lead a more healthy holistic lifestyle. I love Amanda Hayes!"- Theresa, Robbinsville, NJ
"I decided to see a nutritionist in February 2012 (after the holidays) with the main goal to lose weight. As a woman who has battled weight and body image issues since middle school, I've tried my fair share of diets - from Power Pops, to diet pills, to excessive exercise, to eating nothing at all. Nothing really worked, and a nutritionist was yet another attempt to shed some pounds.
Never did I think Amanda would give me the gift she did. Amanda opened my eyes to the world of nutrition and healthy living. She made me aware of what the food industry is doing to not only our food, but also our perception as consumers, and how it's making Americans unhealthy and leading to disease. Suddenly, weight wasn't a big issue, I was potentially developing a chronic illness!
Amanda liberated me to make better decisions in the supermarket, restaurants, and has inspired me to get into my kitchen! No more microwave dinners! Amanda is great at easing you into the program. She shows you alternatives so that you don't quit cold turkey. It's all about baby steps so that these habits become a lifestyle. Amanda also showed me how nutrition is linked to my energy, digestion, and skin/hair beauty (who doesn't want that?!)
Amanda supplies you with tools such as books and movies, and if you want to learn more about a subject (you saw on Dr. Oz) or want to take your health in a certain direction she will get you the information you need. Amanda went above and beyond when I told her I wanted to get off all medication. She set me up with a cleanse (which she also did with me for support), appropriate tests with a lab, analyzed the results, and got me on a natural supplement route, which I love!
In the end, I know that I am eating so much better and am on a path to living a long healthy life, and want to teach my family to do the same." – Lindsay, Princeton, NJ
"One of the best things I have done for myself was to work with Amanda. She taught me so much about creating a healthy lifestyle for myself as well as my family, especially when it comes to food. I learned which foods work best for me so that I have control over how my body feels through what I eat. I have much more energy. In addition, I am better able to guide my teenage daughter to making healthier food choices and we have both expanded our repertoire of vegetables as well as other foods. Amanda made the whole process easy, and I especially loved the cooking lessons!" – Lauren, Princeton, NJ
"My daughter introduced me to Amanda and gave me nutrition sessions as a Christmas gift. I was gaining weight, experiencing low energy / poor sleep, and eating anything I wanted. In my first session with Amanda, she immediately wanted to know what my health goals were. She listened to my concerns and tackled them head on. Our discussions taught me to make better food choices, and drink more water and smoothies to improve my energy. We also went on a grocery shopping tour and she showed me how to navigate through the store and introduce me to the healthiest brands. Additionally, she motivated me to exercise; after 1 month, I'm going to the gym more often. Amanda is very generous sharing her information and very accessible. She always followed up via email with recipes and vitamin/mineral suggestions. I'm very grateful to her." – Judy, Belle Mead, NJ